Welcome to Camp Calvin!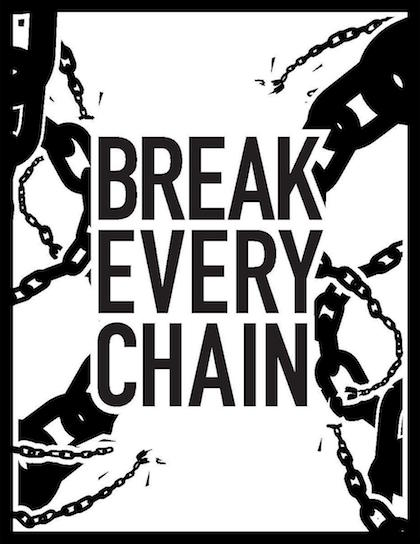 The Camp Calvin Theme for 2016 is Break Every Chain

Romans 8:1-2
Therefore, there is now no condemnation for those who are in Christ Jesus, because through Christ Jesus the law of the Spirit who gives life has set you free from the law of sin and death.

In order to Break Every Chain, we must first admit that we have chains because of sin, and that we are powerless to change that on our own. Praise God that this is not the final word! As we find in our theme verses, Romans 8:1-2, through the death and resurrection of Jesus Christ, we can be set free from the power of sin and death and have new life in the Holy Spirit!! Through the stories of people in the Bible and contemporary personal testimonies throughout the week of Camp Calvin, our campers have heard about God's amazing power to break chains of fear, addiction (anything you turn to for comfort, pleasure, or fulfillment), and sickness of body or soul. Our campers also learned more about how to trust the Lord's all-sufficient grace and faithfulness when the process is difficult and our weakness seems overwhelming. Breaking our chains is all about surrendering to something greater...His great love & grace!
What is Camp Calvin?
Camp Calvin is a Christian overnight summer camp for boys and girls entering 4th through 9th grades in the fall of 2016. During the week, campers are introduced to Jesus Christ, enjoy God's creation, worship our Lord with songs, receive inspiration from our spiritual leaders, make new friends, enjoy team activities, and participate in swimming, canoeing, games, art activities, and more!
When is Camp Calvin?
June 20 - 25, 2016
Where is Camp Calvin?
Camp Whitcomb-Mason
W294 N8436 Camp Whitcomb Road
Hartland, WI 53029
Click here for directions
Camp Calvin rents the Camp Whitcomb/Mason facilities for the week of Camp Calvin. Camp Whitcomb/Mason is located 30 miles northwest of Milwaukee on Lake Keesus, near Hartland, Wisconsin.
For more information about Camp Calvin please visit our Camp Information page.
Latest Camp News
Sunday, June 26th at Oostburg - First Christian Reformed Church at 6:00 pm.
Click for more details!